Glass Pieces On The Pattern
Next I color the tree and add some more detail. Again, rather than one brown for the tree truck I've colored it in three shades of brown. I've played with the skyline a bit and added detail to the water by adding some lines. The lines allow our leaves to cut into the water without having lead lines running off each leave up into the land. Glass can only be cut in certain ways and your patterns have to take these rules into account. Knowing how to hide lead lines is a key element to making realistic looking patterns.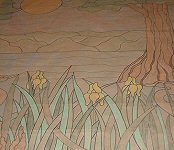 Next we show our detailed pattern to the customer to see what he thinks. He loves it but wants to know if we could add some spanish moss and a cat-tail or two. We're able to make these minor adjustments easily. Now that we have a final pattern we're ready to start cutting the glass. To do this we need to make a second full sized copy of the pattern. We will use scissors to cut the copy up which gives us our pattern pieces. Those cutouts will be traced onto the glass. Numbering both patterns makes it much easier to reasemble your glass onto the pattern. Most times I just work a section at a time because numbers are hard to keep on the glass. As I cut each piece of glass I place it on the pattern which also gives me a feel for how the window is looking as I move along. If something looks out of the place, perhaps a color is wrong or there's a flaw in the glass, I will change it before continuing onto the next section.