Your Second Window: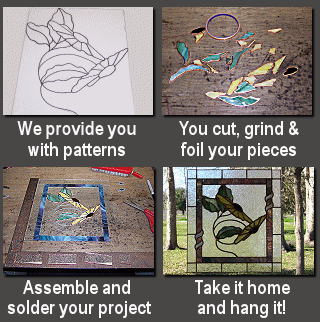 Classes Include:
• 3 hour weekly classes
• Materials for your 1st project

What You'll Accomplish:
You will complete a Butterfly Suncatcher during your first class. Then, with our help you will design and build a window measuring approximately 16" x 20" during your next 4 weeks. Materials for this window are not included in the class fee.

Day or Night Classes Available:
Day classes run Tuesday, Wednesday & Thursday from 10:00am until 1:00pm. Night Classes available from 5:30pm until 8:30. on Tuesday, Wednesday or Thursday.
Styles:


Modern


Traditional
Click Here To See Some Of Our Students Finished Projects
We are located off Highway 317 in Franklin, LA 70538